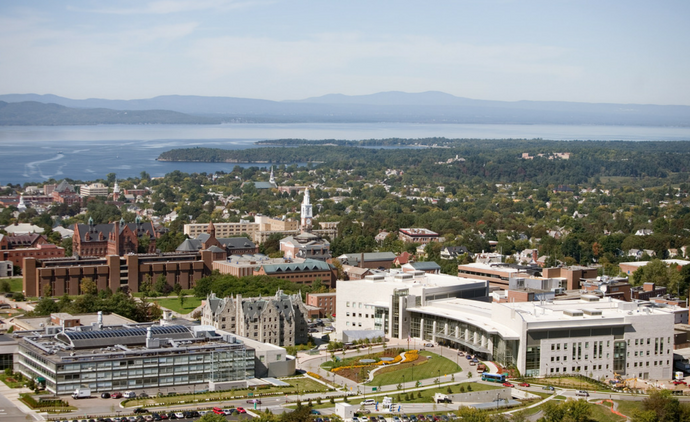 UVM Medical Center, or UVMMC, is a sprawling hospital complex in Burlington, Vermont. The hospital expends a great deal of effort to beautify their walls with artwork, color, and messaging.
As printers and installers of graphic panels and wall murals, Light-Works' job is to ensure that UVMMC's branding and message are represented, as well as supporting their vision for aesthetics. In a hospital setting, we understand that many people occupying the neighboring halls and rooms are under tremendous stress, so all of our work is carried out safely and quietly, with absolute professionalism.
Light-Works has been a trusted partner of the UVMMC campus for over 20 years, providing their annual 'Faces' installation which touts their incredible staff's skills. At the end of each January, we adorn the walls with large scale specialty graphics, honoring the full breadth of their workforce with beautiful portraits and messaging. When we arrive, the excitement and curiosity from hospital members builds as the previous year's installation is removed and the new crop is installed.
Over 30 Custom Wall Murals
Last year, Light-Works was chosen to print, finish, and install over thirty wall murals. The thousands of square feet of graphics and photography we created, both beautified the walls and honed the hospital's message of outstanding patient care..
Some walls are massive, and many include a variety of technical obstacles like handrails, safety equipment, and wall guards which make our work both creative and challenging. Hospitals require graphics that are rigorously cleanable and safe, and additionally, we provide the best image quality with unconditional consistency.
Our Printing Production Methods
Light-Works' legacy is first-rate photographic printing. For production of large scale printing, we use 3M Control-Tac and laminate. This material combination is known for its quality, application, durability, cleanability, rated specifications, and its removability.
We print our graphics on our new 6-color Fujifilm Select 28 UV curable flatbed, using the printer's ability to print large rolls. Sericol KN ink set is also employed for maximum color spectrum and durability.  We use this equipment for its photographic realism, economy, and ability to image solid colors and text flawlessly.
With a large series of wall murals displaying integrated branding, color reproduction must be immaculate to work effectively. Many of our murals are in large, long hallways where the branding must flow accurately to effectively communicate the design. Additionally, content must join seamlessly amid several existing obstacles such as fire boxes, lights, electrical, etc. Most of this is done in pre-press by properly preparing the artwork panels to function and install optimally.
Light-Works spends considerable effort preparing the mural panels for accurate installation by printing level lines and alignment marks. Panels are all labeled, rolled, and boxed in the order they are installed. A reference print accompanies each wall mural, with dimensions and special features detailed.
Expert Installation Techniques at UVM Medical Center
Given the nature of our ongoing project with UVMMC – and the 24/7 reality of a busy hospital –  installations are well-coordinated with the facilities' contractors to guarantee that the wall is ready. Together, we ensure that existing wall fixtures are removed and the wall surface is prepared, usually days in advance so any new primer and paint can cure completely. The installation area must be barricaded, and all waste must be quickly removed.
Installers are typically members of our own staff, and they clean the wall and test for adhesion.  After double checking all the measurements once more, we then begin usually from left to right, by applying, leveling, positioning, and finally applying vertical panel sections approximately four feet wide using the "hinge" technique. After all panels are applied, we trim out the perimeter, and press down the edges and seams using a brayer. Certain wall murals then have lettering applied over the mural.
We always receive a positive reaction from the hospital staff and passersby, both during and after our work. These compliments reinforce the value of our work to this important community.