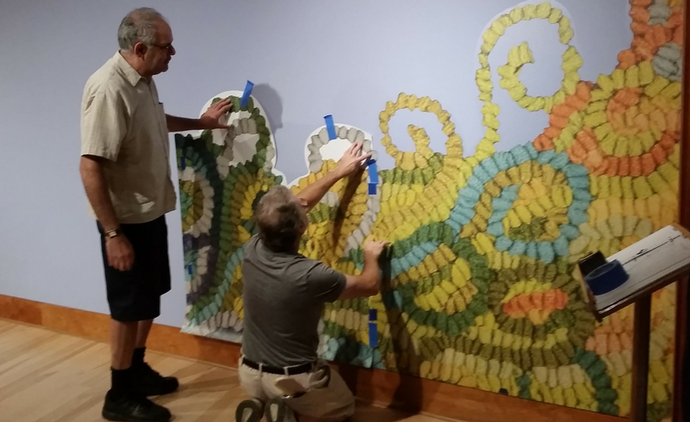 Well into my 40th year of running Light-Works, I'm amazed at the diverse and wide-reaching work that we do for our clients. Restaurants are bound by their defined menus, and factories pride themselves on precise manufacturing day in and day out. Custom printers like us, however, use the same tools with an infinite variety of substrates, media and configurations.
We are limited only by the creativity and ideas that our clients request, and our abilities to transform their ideas into products, displays and works of art. Light-Works quickly produces highly-customized work, allowing our clients to leverage necessary trends of personalization and one-to-one marketing.
National Campaigns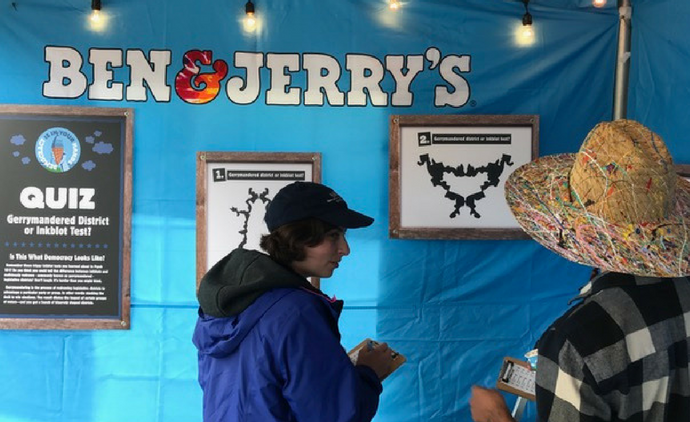 One of our longest-standing clients (with the farthest reach) is Ben & Jerry's, and we are proud creators of the promotional graphics and menu systems at all of their Scoop Shops in North America. This year, we worked with their headquarters to develop a highly-customized display poster with peel-off elements. Every franchise requires different customizations, and we work with each of them to develop signage relevant to their shop size, clientele, and budget. Additionally, we were proud to create custom-fabricated menu panels and 3-D display fixtures for new Scoop Shops in Florida, Los Angeles, and Washington, D.C.
On a local level, Ben & Jerry's asked us to collaborate on a design celebrating the 20th anniversary of their incredibly popular flavor, PhishFood, which was unveiled at an outdoor concert on Burlington's beautiful waterfront. At Burlington's annual Art Hop – which attracts over 30,000 visitors from the northeast – we helped them to create, print and fabricate a booth entitled "Gerrymandered District or Inkblot Test?" Their famous brand of social activism fit right in with the Burlington festival's art galleries, exhibition sites and over 600 active artists.
You may have even seen Light-Works' creations in the 2017 Super Bowl! A local client came to us to produce custom acrylic covers for the promotion of a new Pepsi product, LIFEWTR. We were excited to be a part of something so visually stunning, and both parties are extremely pleased with how the promotion turned out!
One of our larger clients is an Italian luxury jewelry manufacturer, Roberto Coin, who values Light-Works' attention to detail. Bloomingdale's in Atlanta and Nieman Marcus in Pennsylvania requested high-end retail graphics to highlight Roberto Coin's latest offerings. These included specialized marketing graphics in the form of posters, window displays, counter cards, backlit displays, and adhesive-backed graphics. Our work was created with their holiday season in mind, and the range of content and materials – along with the quick turnaround – provided Light-Works with plenty of action, and certainly kept things interesting!
Love for Local Vermont-Based Businesses
It's clear that we love to show our support to fellow Vermonters, as evidenced by many of our clients. For the Champlain Valley Dispensary, we've created quick, swappable display panels. The company finds that this is an effective way to reuse their displays at trade shows and conferences, all while being able to swap out image panels that fit their needs.
We've worked with Vermont Public Radio – our local NPR station – for the last decade, producing most of their event and promotional graphics. When they celebrated their anniversary (40 years, just like us!), we provided a 24-foot glass film for their main entrance which showcases the words, "Welcome to Vermont Public Radio!" in sound wave!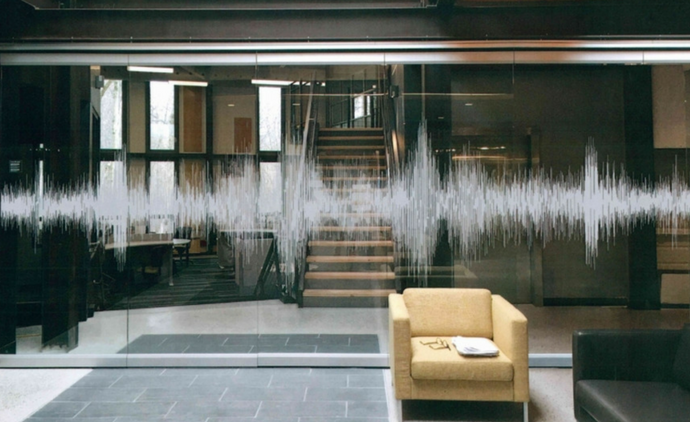 We are always excited to work with museum installations, and the Shelburne Museum in Vermont is certainly at the top of our list. Renowned for its folk art, quilts, and textiles (numbering among more than 150,000 works), Light-Works was asked to develop displays with the museum's designer and curators that honored American hooked rug artist, Peggy Yoder. Inspired by Yoder's wool paintings, we used an image of a 10-inch swath of one rug, magnifying it into a 16-foot wall covering. We used a clear medium that allowed the wall color to contrast with the artwork, then custom-cut the display to mimic the pattern and texture of wool.
Light-Works has been the key graphics provider for Vermont Travelers Centers and state exhibits for nearly 20 years. The murals (some in excess of 16 feet) depict the state's major tourist attractions, including the Vermont State House, annual balloon festival, dazzling waterfalls, pastoral dairy farms, and more. Vermont Visitor Centers have also continued to use our services to produce up-to-date state map panels, directly printed to substrate.
The University of Vermont Medical Center is a place we love beautifying with artwork, color and messaging. We have often created graphics for the UVMMC, printing and installing new murals with great care for the complex and patients.  
Diversity of Work Keeps Things Interesting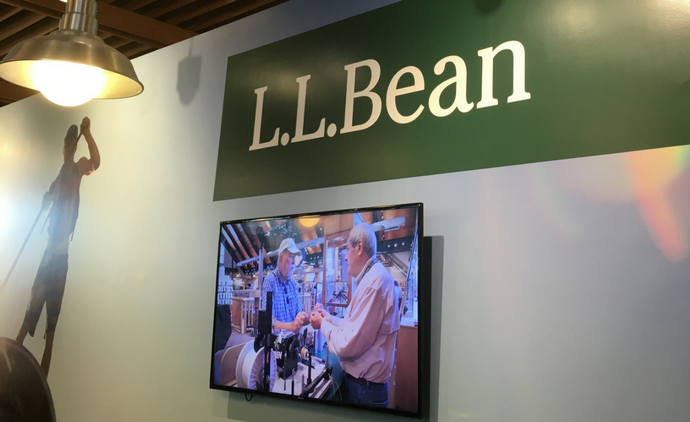 Whether we're creating wall graphics for L.L. Bean, custom-printing glass privacy films for Boston's Microsoft offices, or developing aluminum fine art prints to be hung at corporate headquarters, we never know precisely what to expect. This keeps us on our toes, and that's exactly how we like it! Our only constraints are our customers' visions, which are as boundless as the human imagination!
Though our projects are varied, our commitment to sustainability and social responsibility have been consistent through all the work we do since starting Light-Works in 1978. We utilize substrates and media that follow our vision for "Pure Green Attributes", using the most environmentally-sound equipment in the industry. We also invest in our local community and arts community by contributing our time, equipment and services throughout the year.
Whatever your vision, when it comes to large format specialty printing, your vision will get the attention it deserves.