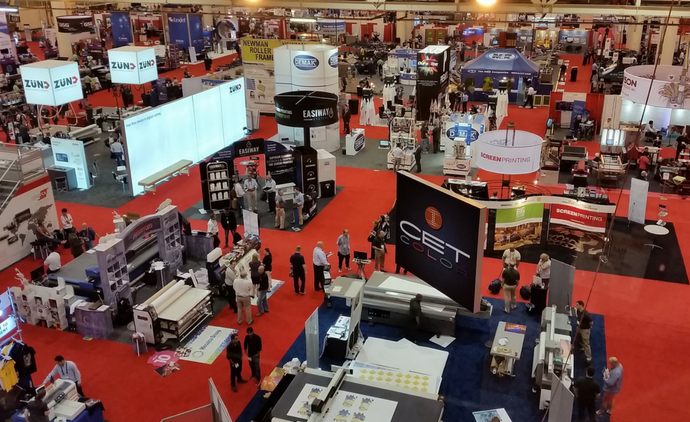 Nearly every year, I attend the Specialty Graphic Imaging Association (SGIA) trade show and conference. As the largest printing trade show in the United States, it is where people in 'the biz' learn about the latest trends, encounter incredible innovations, and network with other members.
In my fortieth year of owning a company like Light-Works, the show is always a great opportunity to meet up with friends in the industry, compare notes, and enjoy the show in New Orleans, one of my favorite cities.
Light-Works' Focus on Printing with True Green Attributes
Since Light-Works recently installed a 6-color Fujifilm Acuity flatbed in early 2017, my sights were focused on soft goods like meda, substrates, and finishing materials, rather than heavy equipment. Our company's most ardent interest relates to sustainable products with true green attributes.
I tend to be quite skeptical about the term 'recyclable', since recyclability is typically determined by individual municipalities. Since many of our clients have varying recycling needs throughout North America, it's nearly impossible to understand the rules and regulations for every one of them.
New Offers from the 2017 SGIA Trade Show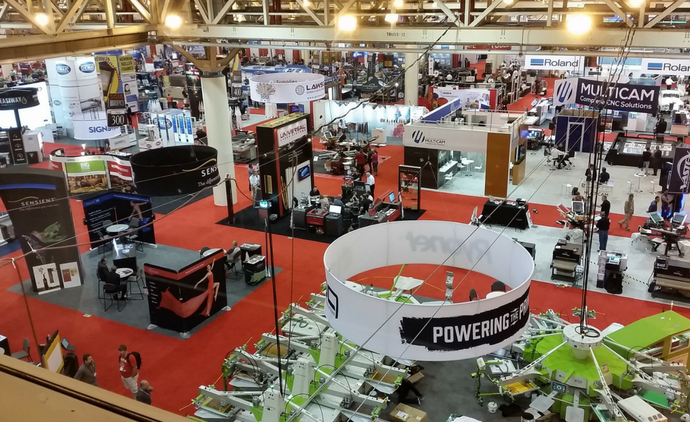 The SGIA show always features wide- and large-format inkjet, screen and digital signage, and – with over 600 exhibitors – there are always incredible developments from large players like HP and also Epson, who excitingly displayed a 9-color, low-solvent roll printer which is the first to earn a Greenguard rating.
We're also lucky to witness more obscure brands like Shanghai Chungkong and Natura Media. You also have the chance to encounter a plethora of media suppliers, software companies, screen presses (which can produce t-shirts on-site!), and automated embroidery machines.
The Exciting Future of Sustainable Printing at SGIA
We stopped by the Lintec booth, as they are our current supplier of Wincos PVC-free window films, and scoped out their new and upcoming lines. We're happy to see that they've expanded their size configurations and product lines.
We were intrigued by Natura Media, a Korean company that exports specialty media products like optically-clear window films that are PVC-free. At this conference, we saw that Natura Media mirrored the value we ourselves place in sustainable materials, and were able to inspect installed samples to ensure the quality was in line with what we expect from our suppliers.
Silicone Edge Graphics (SEGs) Continue to Evolve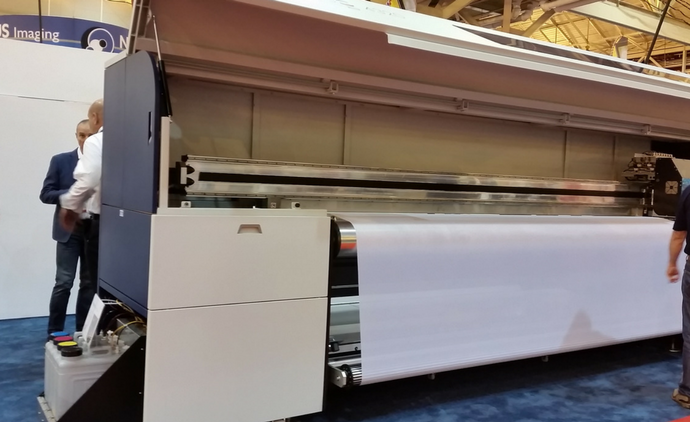 Fisher Textile, a company based out of North Carolina, is a respected and long-standing supplier of printable fabric in our industry. They showed of their new – and incredibly popular – "Mojo" fabric, which prints seamlessly onto latex and UV. Fisher Textile is also making waves with their Silicon Edge Graphics (SEGs), which is the fastest-growing segment in digital media.
SEGs are high-resolution, dye-sublimated fabric graphics that are finished with a thin silicone strip (or gasket). The silicone strip is then directly sewn or fastened to the edge of the graphic, and then inserted into an aluminum frame with a recessed groove. The size of the graphic must be absolutely precise, but when done perfectly, the large format graphic mimics an old-fashioned hard panel graphic.
There are many advantages to using SEGs:
Scalability – The final panel size is only limited by the size of media and printer capacity.

Aesthetic – Finely-weaved fabric is printed with high-impact dye sublimation.

Shipping – Fabric can easily be folded or rolled. Since the the frame is in sections, this cuts down on shipping costs.

Change-outs – Fabric panels can quickly and easily be changed in the existing frame.
From hardware supplier to textile manufacturers to equipment suppliers, there is a mad rush to capitalize on this trend. We expect to see more development in the coming years, as evidenced by SGIA's vendors.
Synchronicity Among Multiple SEG Developers
Testrite is a hardware supplier, and I consider myself fortunate to count myself as one of their oldest customers (I purchased my first enlarger from their Newark, New Jersey factory back in 1965!). Their SEG frame hardware and newest frame system beautifully and effectively supports Visual Magnetic Media products.
Visual Magnetics were celebrating their tenth anniversary, and we were excited to stop by. Rather than using PVC-clad, heavy, magnetic sheeting, Visual Magnetics reverses their graphic displays' magnetics by printing on extremely lightweight, sustainable material.
Exciting Developments in Fine Art Printing on Aluminum

We visited ChromaLuxe, a remarkable company that has helped to innovate fine art reproduction on aluminum. This Kentucky company once manufactured coated aluminum and plastic sheets for the construction industry, and discovered that one of their customers had dyed sublimating patterns and images onto their coated panels. They immediately saw an opportunity in marketing this process under the name ChromaLuxe.
Their process involves printing an image by using sublimation inks of special paper which are then 'fused' with coated aluminum sheets in a heat press. The results are incredible, and have the depth and ultra-high quality of photographic prints. Because the second surface is mounted to Plexiglas, the results are free of bubbles or need for re-lamination, something that inspires us at Light-Works.
Further Developments at the 2017 SGIA conference
We were definitely intrigued by the ContraVision booth, who are purportedly the inventor of perforated window film. ContraVision's display showcased the varying degrees of "Image vs. Holes". This gave us a newfound enlightenment as to how much graphic you see compared to how much light shows (while looking out a window). They also highlighted a HD perforated window film, their latest innovation, which utilized the principle of stochastic screening (varying hole sizes) to further increase image quality.
Vescom, the world leader in wallpaper, now has an excellent line of printable wallpaper in various surfaces, many of them PVC-free.3A Composites, the manufacturer of the well-known Sintra, introduced Banova Ply. This balsa-based printable plywood weighs a fraction of typical plywood, which drastically cuts down on shipping costs. Also, Banova Ply is FSC-certified, which is crucial for LEED certification and the lessening of a manufacturer's carbon footprint.
We were also fascinated by Marabu, an ink and coating manufacturer in South Carolina. They've developed a replacement ink that can be used in our flatbed printers. Not only does this product offer better adhesion, but their spray coating further protects printed surfaces.
Great Inspiration Until SGIA 2018!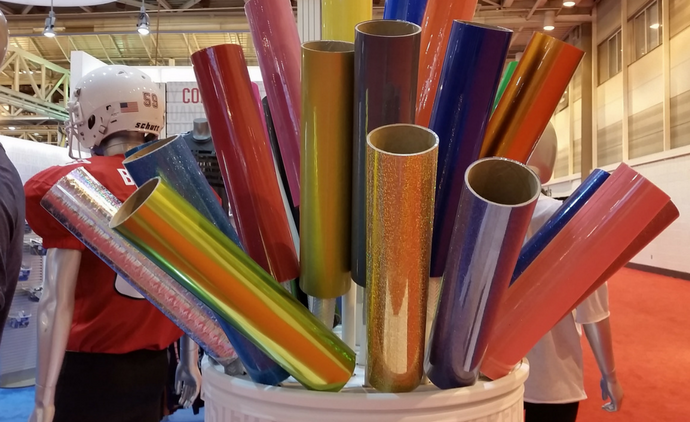 In addition to an education seminar on sustainability (where we learned about the latest trusted certifications and how clients who value sustainability choose print providers), the adventure in New Orleans was enlightening. We look forward to putting some of these great discoveries and developments to work for our amazing clients over the coming year!